Safe Baby Sunscreen to Prevent Summer Sunburn
What you need to know before applying sunscreen on baby
Moms everywhere were in shock after a recent story on Today about a baby getting burned from her sunscreen.
The baby's mom, Rebecca Cannon was shocked when the sunscreen she used not only failed to protect her baby from the sun, but actually caused burns that sent her 14-month-old daughter to the ER.
A spray sunscreen caused blisters & burns/Image courtesy of Rebecca Cannon
Safe Baby Sunscreen?
Obviously, this news made us wonder, is there such a thing as safe baby sunscreen?
Article Continues Below Advertisement
It seems the toddler suffered from a "caustic burn from something in the sunscreen", a spray sunscreen manufactured by Banana Boat.
While every parent wants to prevent summer sunburn on their kids, we also want to protect our kids from unsafe products. 
But with so many sunscreens on the market, how do you know which sunscreens are safe, especially for babies and toddlers?
Consumer Reports recently released their top sunscreens of 2017, but I recently learned that while Consumer Reports measures effectiveness of SPF (where a higher number is preferred), the EWG actually measures sunscreens according to chemical content, therefore a lower number is better. 
Article Continues Below Advertisement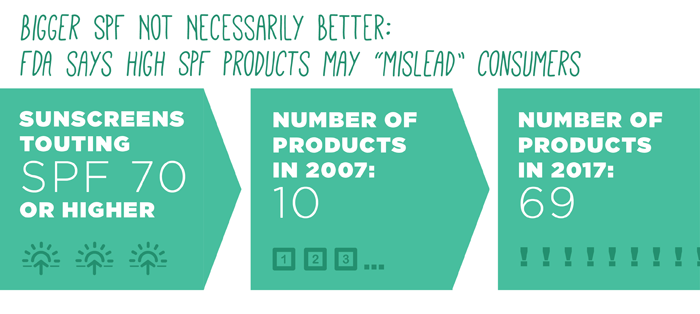 Fewer chemicals equals a lower number on the EWG scale. Therefore, you want to look for a sunscreen with an EWG rating of 1 or 2 when using specifically on babies and toddlers.
One brand we really love here at Babywise that scores a 1 on the EWG scale is Badger Sunscreen.
Check out ALL our recommended baby sunscreens
Article Continues Below Advertisement
Safe Sunscreen Sprays?
According to EWG:
Sunscreen sprays are popular with consumers. In 2007, just under 20 percent of the sunscreens we reviewed were sprays; this year, just under 30 percent were.
But EWG is concerned that these products pose an inhalation risk and may not provide a thick and even coating on skin. In 2011 the FDA raised similar concerns. The agency indicated it would ban sprays unless sunscreen companies submitted more data to prove that spray sunscreens protect skin and pose no safety hazards. Until companies can provide the data to negate these concerns, EWG cautions people to avoid these products.
Practice Safe Sunscreen Application
Regardless of what kind of sunscreen you choose, follow these steps to avoid getting burnt:
Article Continues Below Advertisement
Shake the bottle. This helps to distribute the ingredients throughout the bottle.
Apply sunscreen BEFORE you go outside. Aim for 15 to 30 minutes before.
Reapply every two hours. And whenever you get out of the water, no matter how much time has passed, or if an ingredient is water resistant.
While it's hard to pinpoint a single safe baby sunscreen to use across the board, we hope these suggestions will help keep your baby safer this summer and help protect against summer sunburn.
If you're looking for even more baby sunscreen advice, read our post on the "Do's and Don'ts of Sunscreen for Babies and Kids".
***
This post provides content and discussion related to health, wellness, and related subjects.  The words and other content provided in this blog including links, should not be considered medical advice and should not be construed as such. Any health/wellness information should not be considered an alternative or replacement for information given to you by a licensed physician. If the reader or any other person has a medical concern, he or she should consult with a licensed physi­cian.
---
Best-Selling Author & Speaker
Sami Cone is the best-selling author of "Raising Uncommon Kids", is known as the "Frugal Mom" on Nashville's top-rated talk show "Talk of the Town" and educates over a million listeners every day on her nationally syndicated "Family Money Minute". She is proud to call Nashville home with her husband, Rick, and their two 'tweenage' children.
Follow Sami Cone:
---
Facebook Comments
---